CES Startup Debut always showcases some interesting  companies and Focus@Will seems like a great fit for journalists ready to face a week of floor stomping stress at CES 2013. Focus@Will is the name of a new music service- with a twist. Rather than aiming to provide you with the latest tunes, they offer you a better way to focus on your tasks at hand- using a clever musical algorithm to do so. Think of their service as Audio Adderall and you'll start to see what they're trying to do.
They worked with the Psychology team at UCLA to look at concentration and what affects it, and found that people tend to only be fully effective for a maximum of 100 minutes, with 20 minutes being the sweet spot where attention starts to wander (think snacking/ that episode of Homeland on the DVR box (or Facebook, never forget Facebook). In response to this, the Focus@Will team (run by three hardcore audiophiles) looked at how they could use music as a way to prolong concentration and enhance productivity,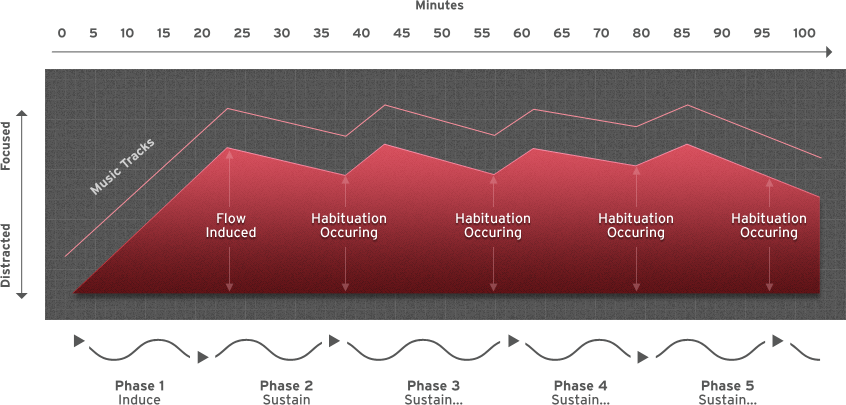 Focus@Will has a simple solution. Using their FREE service, you login, select one of 8 musical options (including Ambient, Classical and Alpha Chill) and then simply do what you'd normally do like type, email, work on spreadsheets. The music varies over a 100 minute sequence and has 5 phases which are designed to enhance focus and productivity. Factors such as the key, speed and intensity play a role in keeping you alert, and all tracks are vocal free as they've been shown to cause distraction and the audio that's provided is strangely soothing. The different phases are designed to provide a constant stream of alertness, and using it I've found that the music really does vary during the audio experience and noticing these changes does switch my brain on again.
It's possible I could recreate this at home by coming up with a personal playlist that mixed and matched unusual songs, but having audio provided for me like this is much simpler, and the variety is interesting as well. Once logged in you get the option to 'thumbs up' tracks you especially enjoy and this data will be used by the system so select tracks personal to your tastes. Should you skip a track with the 'skip button' (a kinder alternative than a thumbs down option) it won't be played for you again, and no doubt the site creators will work out what music is popular and use this in their decisions when commissioning new tracks. You also have the options to purchase specific tracks that you like through a webstore, and they're looking at creating a premium paid for model in the future.
Focus@Will is currently free to use, though specific tracks can be purchased through the store if you want them for future listening. It's USA only whilst in beta mode, with plans to roll out internationally at some point.